Boston's Legacy Businesses - Pubs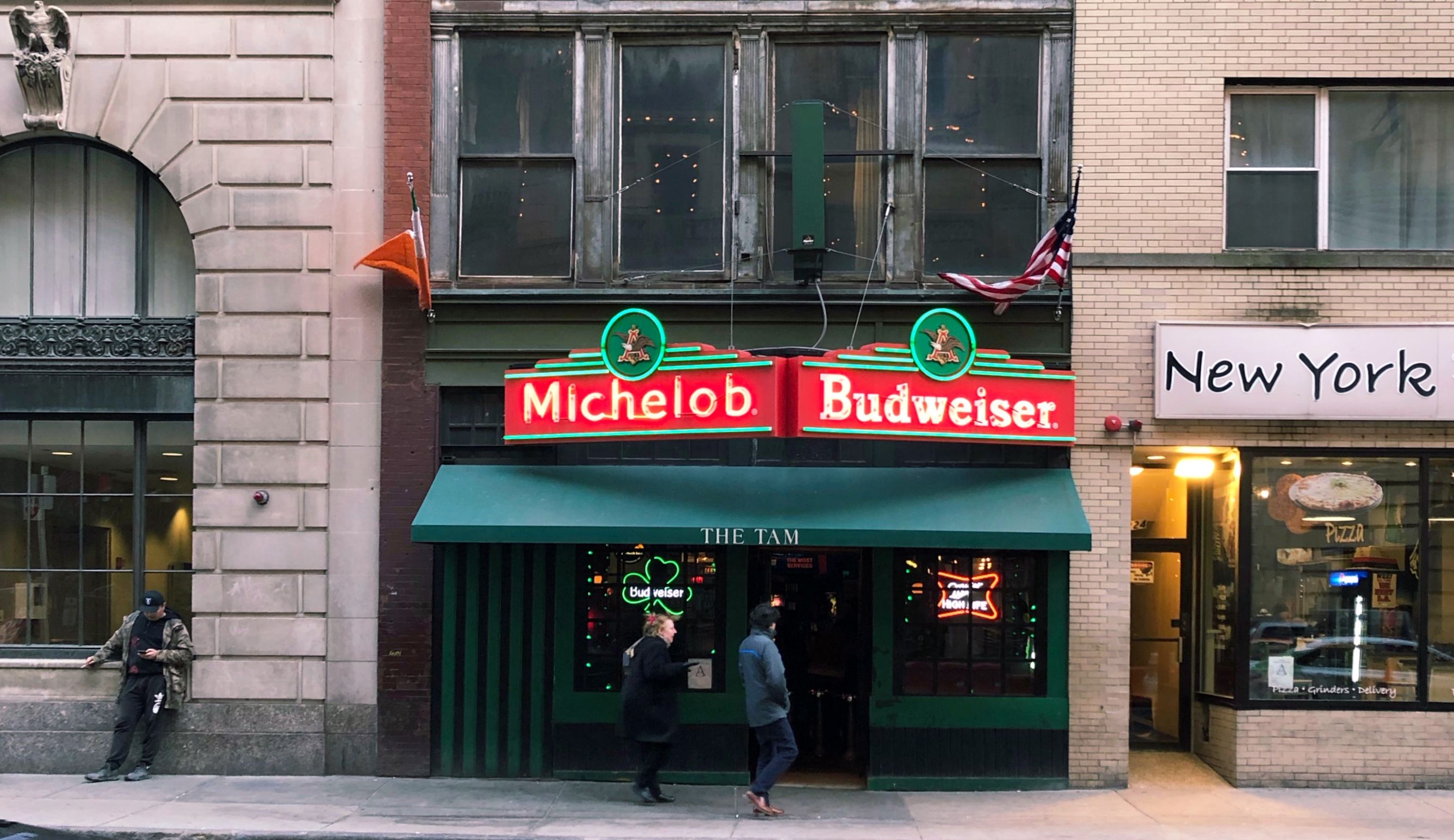 Beacon Hill
Beacon Hill Pub has been a neighborhood staple since the 1980s. The pub is quintessential Boston—it's a great place to stop to watch a Yankees game or drink a Narragansett. Arcade games, stand-up comedy, trivia, and karaoke nights give the pub its special flair of fun and entertainment.
Jamaica Plain
Brendan Behan Pub is one of the few traditional Irish pubs left in Boston. Featuring drinks, live music, and the occasional food pop-up, the decades-old Jamaica Plain landmark is a popular neighborhood gathering place. On November 19, 2019, Brendan Behan's won Zoning Board of Appeal approval to add a 23-seat patio behind the pub—well before the COVID-19 pandemic necessitated new accomodations for socially-distanced gathering. The new patio is now open, and it's lovely!
Bus Stop Pub*
Allston
Opened in 1980, Bus Stop Pub in Lower Allston was once a go-to for townies. A classic dive bar it was known by locals for its casual atmosphere and affordable menu, The pub closed in May 2018 due to increasing pressures from gentrification in the neighborhood. Construction and redevelopment in the area, like Harvard's new Barry's Corner Retail and Residential Commons project, are changing the urban scape of Lower Allston and driving up rents.
Dorchester
The Eire Pub has been a fixture of Dorchester for over 50 years. Opened as a traditional "Men's Bar," it has since become a go-to spot for locals, sports legends, and politicians. They feature traditional American and New England dishes and an extensive draft beer menu.
Roslindale
Kelleher's opened in Roslindale in 2009, and although it may have a simple exterior, the dive bar is a favorite among locals with many loyal patrons. From classic clam chowder to burgers and steak tips, Kelleher's has everyone's favorite comfort food. Whether you come to watch the game on their many TV's or enjoy one of the beers on tap, Kelleher's provides a classic Boston bar experience.
Murphy's Law
South Boston
Murphy's Law is a traditional irish pub, which opened in 2000. While the streets of South Boston are ever changing, Murphy's Law isn't going anywhere. With its draft and bottled beers, arcade games, and eclectic style, it's a major favorite among locals and film makers. The bar has been chosen for the set of many different productions, being featured in Anthony Bourdain's "No Reservations" in 2011, and the Affleck brothers filming there in 2006. 
Polish American Citizens Club
Dorchester
The Polish American Citizens Club is a space for the Polish community of Boston to gather and celebrate. It began in 1924 when Polish Veterans of WWI bought an old shoe factory to convene in, and opened its doors in a new building in 1939, thanks to fund raising efforts. The Club has grown since 1939 with immigrants and refugees from WWII coming to make new lives in America.
The Boston Eagle
South End
The Boston Eagle is one of the oldest gay bars in the city. It's a classic dive bar meets low-key gay bar. Although from the outside it is somewhat easy to miss, with a pool table, pinball machine, and cheap drinks, the club is something of a Boston institution.
The Jeanie Johnston Pub
Jamaica Plain
The Jeanie Johnston Pub and Grill has been a favorite destination for Jamaica Plain residents for years. The pub features many of the characteristics of any traditional Irish pub: live music, a cozy atmosphere, good food, and a great selection of beers and ciders.
The Red Hat
Downtown
The Red Hat is a favorite place of those on their way to the garden, and is known for its savory menu. Located in the old Scollay Square, the Red Hat has been catering to those who want a quick bite since 1907 when they were entertaining dockworkers and ship builders. As time went on businessmen started to come for their lunch breaks, and ladies would stop by on their shopping days. The Red Hat was even a champion of being a respectable restaurant by day and speakeasy by night during prohibition. 
The Seven's Ale House
Beacon Hill
The Seven's Ale House in Beacon Hill was founded in 1933, and has continued its legacy as a small, lively pub for almost 90 years.
The Shamrock
South Boston
The Shamrock Pub is a small pub in South Boston. Its popularity as a local watering hole is apparent in the often full parking spaces surrounding it.
The Tam
Downtown
The Tam is one of the most popular dive bars in Boston, and has been located on Tremont Street since its opening in the 1940's and has catered to the working class ever since. As more bars close around Boston, The Tam is drawing more and more of those looking for the authentic dive bar experience. 
Warren Tavern
Charlestown
Warren Tavern was built in 1780, and was one of the first buildings to be reconstructed after the Battle of Bunker Hill when Charlestown was left destroyed. It was named after Dr. Joseph Warren who had been studying to become a physician when he started to vehemently advocate against British Rule. He sent Paul Revere and William Dawes to warn of the British movement. He was elected as a general in 1775, but was killed in the Battle of Bunker Hill only days later. The Tavern was supposedly built using beams from the Charlestown Navy Yard, and often saw patrons like George Washington and Paul Revere. It ceased operating as a Tavern in 1813, and eventually became vacant and was slated for demolition in the 1970's, but was saved and successfully reopened in 1972. Today the Tavern is loved by locals and tourists alike.
Woody's Grill and Tap
Fenway-Kenmore
Woody's Grill and Tap has a hearty menu and large beer and wine selection to go with it. Known for their wood fired pizza, which comes with a variety of interesting toppings from four cheese pizza, to white clam pizza, Woody's is still somewhat of a local secret with its relatively residential location. 
21st Amendment
Beacon Hill
The 21st Amendment is a classic pub, complete with the menu of burgers and other pub food, but it also sports a colorful history. The space was originally designed as a luxury hotel in 1899, with guests like Luisa May Alcott and Alexander Graham Bell, and was also known as the Bellevue Men's Club, and Golden Dome Club. These clubs were rumored to have plenty of city business conducted in them and supposedly often saw JFK writing his speeches in the back.
Back to the Boston Legacy Businesses Map