Preservation Achievement Awards
The Preservation Achievement Awards honor outstanding achievements in historic preservation and compatible new construction in Boston. Celebrated for their positive impact on the city's built environment, award-winning projects are looked upon as models for future preservation work. Nominations for these prestigious awards are accepted every spring. Past winners include the Lenox Hotel, Fenway Park, The Boston Athenaeum, Trinity Church, The Liberty Hotel, The Paramount Center, the Leonard P. Zakim Bunker Hill Memorial Bridge, and the Isabella Stewart Gardner Museum. 
2018 PRESERVATION ACHIEVEMENT AWARD WINNING PROJECTS 
Congratulations to our 2018 Preservation Achievement Award recipients!   
10 Farnsworth 
316 Shawmut Ave
Feldman Headquarters
George Robert White Memorial Fountain 
Jamaica Plain Branch of the Boston Public Library 
Ohabei Shalom Cemetery Chapel-Stewardship Recognition
SAVE THE DATE: OCTOBER 22

Preservation Achievement Awards & 40th Anniversary Celebration: October 22, 2018 
State Room | 60 State Street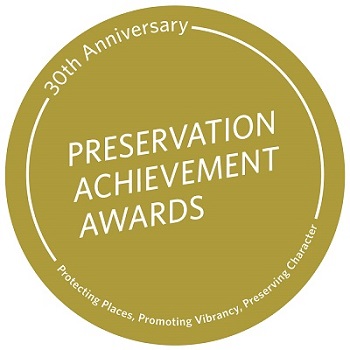 SPONSOR THE AWARDS
Your support allows the Alliance to meet its mission to protect and improve Boston's distinct architectural heritage. Join the Boston Preservation Alliance as a Corporate Member and sponsor the 30th Annual Preservation Achievement Awards. Details here.